Profile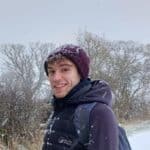 Alexander Cunningham
About Me:

I'm 4 months into my job as a nuclear scientist and now live near the Lake District. This happens to be the perfect location for the things I enjoy in my spare time like hiking, mountain biking and rock climbing!

Read more

My current job in the nuclear industry (which I've now been doing for just over 4 months) is my first job since university, where I studied physics. I'm on a scheme (nucleargraduates) which will let me move between different nuclear companies around the UK to try out different things!

What about my life before this? In June 2021 I finished my university degree in physics. Before that I was in secondary school doing mostly science, but also a fair amount of history.

I've always enjoyed outdoorsy stuff like hiking and camping, which I did a lot with my family. Since finishing school I've also discovered other great outdoor sports like mountain biking and rock climbing.

Read more

I work in the nuclear industry. The most interesting part of this industry (in my opinion) is the nuclear power stations, where they split apart lots of really really tiny things called atoms* to release energy. This energy is converted to the electricity which powers our daily lives, from lights to computers!

Like any industry (others include manufacturing, farming, construction…) some waste/rubbish always gets produced. In nuclear this might include anything from worn-out protective clothing to old nuclear fuel. The problem is, in nuclear some of this waste is radioactive, meaning it fires off particles/energy (imagine tiny invisible bullets) which are bad for humans and the environment.

My job is to make sure we get rid of radioactive waste in a way that is safe to humans and the environment e.g. some stuff gets squashed and packed into a shipping containers filled with cement! (helpfully, the cement absorbs the "tiny invisible bullets" fired by the waste)

* If we're being picky, its actually the tiny core at the centre of an atom (called a nucleus) which gets split.

My Typical Day:

I start work at 7:30am, then my day usually involves talking to people (to find out stuff), looking at data and doing some thinking/document writing. Because of my early start to the day, I also finish work early at around 3:40pm.

Read more

Alongside my typical work I'm also leading my team to set up a small business for charity – we're currently just at the stage of coming up with ideas. Hopefully it can be good for people and the planet on top of raising lots of money for charity!

What I'd do with the prize money:

Invest in some science-related equipment or activities for schools.

My CV

Education:

My primary school was in Devon (South West England). I then went to Devonport High School (also in Devon) where I did my GCSEs and A-levels (science and maths subjects). Continuing the science theme, I then did a physics degree at Durham University in the North East, a long way from where I started!

Qualifications:

GCSEs in Maths, Sciences, Product Design, German, Ancient History and others. At A-level I studied Maths, Physics and Chemistry then I went on to get a Master's degree in Physics.

Work History:

Charity shop assistant
Festival steward
Research intern at Durham University
Consultant for low carbon energy
Now – nuclear scientist

Current Job:

Nuclear scientist (on nucleargraduates scheme) – currently giving technical advice/support to help safely get rid of radioactive waste and clean up old nuclear buildings/sites.

My Interview

How would you describe yourself in 3 words?

Outdoorsy nuclear scientist

What did you want to be after you left school?

Scientist in renewable or low carbon energy

Were you ever in trouble at school?

Not really

Who is your favourite singer or band?

Green Day

What's your favourite food?

Sri Lankan Curry

Tell us a joke.

What does Earth say to make fun of the other planets in the Solar System? "You guys have no life."
---
---
---
---