Profile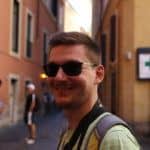 Alistair McShee
Looking forward to representing UKAEA at NewScientist Live up in Manchester tomorrow!
About Me:

Nuclear Fusion Scientist working at the hottest place in the Solar System!
Big fan of computer games, science fiction films, and anything to do with cars

Read more

Hello, I'm Alistair! I'm 23, originally from Guildford, but now live with my fiancé in Reading.

Gadgets are a big hobby of mine; I've built my own gaming PC, repair broken mobile phones just to see how they work, and would love to one day convert my own electric car.

Aside from this, I still make time to keep up-to-date with the latest Marvel films, as well as enjoy classics like Star Wars.

My most prized possession is probably my translucent-orange Nintendo 64, but I am also very proud of my Lego collection as well!

Read more

The experiment I work on reaches 150 MILLION degrees at the core, and this is ten times hotter than the centre of the Sun! In order to get to these incredible temperatures, we need several different ways of heating it, and I am in charge of making sure this equipment works the way it should!

My Typical Day:

My most exciting days are on operations shifts, running the experiments; these start either really early (6:30am) or really late (2:15pm), and run for 8 hours where I get to make sure my team's part of the machine is working as it should!

Read more

Operations Days:
– 6:30am/2:30pm: Arrive at the control room (coffee recommended) and either turn on the machine if on early shift, or discuss how the morning went if on the late shift.
– Setting everything up takes about an hour in the morning, but we run two shifts per day, so coming in for the late shift means someone else has set everything up for you!
– Most of the day is spent delivering energy to the main machine; some days they want as much as we can provide, but sometimes they only want a little bit to see what the effect is. Whatever the other scientists ask for we have to programme in and send to them when they ask for it.
– Lunch/Dinner: Operations always stop for one meal per shift, which is lunch for the early shift and dinner for the late shift.
– Occasionally we need to pause operations to check something, and this means we need to stop the experiment and open up the building we keep it in.
– 2:30pm/10:30pm: End of the day! If on early shift, this means talking to the late shift and telling them how everything is running and what the experiment is today, and if on the late shift this means doing start-of-day procedures in reverse to shut everything down, and then it's home time!

Office Days:
These are 8:15am to 4:30pm either in an office on site or at my desk at home, and are spent designing computer programs to calculate difficult problems, or using the computer to help sort through data from the experiments!

What I'd do with the prize money:

My dream would be to design a fusion reactor in Lego, and maybe even submit it as a proper kit one day for everyone to play with!

My CV

Education:

I did my GCSEs and A-levels at a state school in Guildford; my maths was never that great so I didn't do further maths at any stage, but I liked physics and chemistry (particularly the radiation and atomic parts), which made me choose physics at A-level. I also did history because I was always interested in it, but decided to study physics at university.

My university was a small campus just outside of London called Royal Holloway and I studied there for four years, and they helped me find this job!

Qualifications:

GCSEs: English, Maths, Physics, Chemistry, Biology, Geography, History, German, Music
AS-Levels: Maths, Physics, History, Music Technology
A-Levels: Maths, Physics, History
Degree: Masters in Particle Physics

Work History:

Year 10 Work Experience Week (Age 15): Local Jaguar servicing garage, polishing cars, helping with services and jobs like changing air filters and brake discs
University Outreach Ambassador (Age 18-21): Helped deliver campus tours, give advice on university applications, and discuss physics with anyone who would listen
Summer Placement Student @ UKAEA (Age 20): Two-month position over summer where I wrote some code to help an experiment filter and display data in a useful format
Summer Placement Student @ University (Age 21): Another placement the year after, this time in my university department to help set up an experiment to detect radiation
Graduate Scheme @ UKAEA (Age 22-now): Permanent role at the same company I did my first placement at, although in a different department!

My Interview

How would you describe yourself in 3 words?

Energetic Fusion Physicist

What did you want to be after you left school?

No idea!

Were you ever in trouble at school?

I was banned from making paper aeroplanes (because they flew too far)

Who is your favourite singer or band?

Green Day

What's your favourite food?

Victoria sponge cake

If you had 3 wishes for yourself what would they be? - be honest!

To have a better memory, to improve my spicy food tolerance, and to have a better memory

Tell us a joke.

A neutron walks into a bar and asks how much a drink is. The bartender says, "For you, no charge!"
---
---
---
---