Profile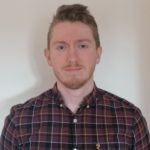 Dean McGarrigle
About Me:

I grew up in Ireland but am currently living in Oxford, working as a Graduate Mechanical Engineer with robots! I'm into all things nerdy and gaming, but I also like a wee adventure like hiking through someplace new.

Read more

I grew up on a small cow farm in rural Ireland before I went to university in Belfast, also spending a semester abroad in Germany where I did a lot of hiking in the Alps! I moved over to England a year and a half ago when I got this job in Oxford and am really enjoying it so far. The people I work with are great and I've definitely made a lot of friends here that I do a lot of activities with like hiking, climbing, having dinner, going quizzing, and playing D&D with.

Read more

I design and develop robots and strategies to help maintain Nuclear Fusion Reactors where it would be too dangerous for humans to go into. It's also a dangerous place for robots so we work to make them tougher so they can do their jobs properly. My office is really cool because it looks like just a regular office on one side of the building but the other half is a big workhall where all our testing robots live. We also have out big reactor on site that's called JET and we send our robot called MASCOT inside it where it fixes the inside wall for us. The way MASCOT is controlled is like a puppet where the operator moves a copy of the robots arms exactly the way he wants them to move on the robot.

My Typical Day:

I roll out of bed, make my coffee then head with my flatmates to work! I usually get the train to the site which is south of Oxford and head into the office. I spend my day researching different robotic systems, analysing them, and also discussing them with the people I work with in office and all across Europe and sometimes the whole world!

Read more

I travel with my flatmates to work, as they both also work at my company as an electrical engineer and a physicist. We travel by train as there is a train station only a short walk away from our site, but we always have to hope that the weather is good! Thankfully I also have the option to work remotely as much of the work I do can be done from my laptop. This work largely involves researching and studying robotic systems for remote maintenance, then analysing these systems to determine their suitability for the desired requirements and discussing it with my colleagues in office and other engineers and physicists across the globe. I sometimes have to use maths so solve problems, or use computer programs to model robot shapes and performances. After work I usually like to go for a run if the weather is good, hang out with friends, play games, watch movies, whatever takes me in the moment really!

What I'd do with the prize money:

I would like to try to promote Nuclear Fusion in Northern Ireland and perhaps the Republic of Ireland more as the nuclear industry doesn't exist there and most people don't know anything about it!

My CV

Education:

St Davog's Primary School, Belleek, Northern Ireland

St Michael's Grammar School, Enniskillen, Northern Ireland

Ulster University Jordanstown, Belfast, Northern Ireland

Augsburg University of Applied Sciences, Bavaria, Germany

Qualifications:

GCSEs:

1 A*, 4 A's, 5 B's

A-Levels:

B in Maths, C in Physics, D in Chemistry

Uni Degrees:

MEng Masters in Mechanical Engineering

MEng Masters in Mechatronic Systems

Work History:

Farmhand and Construction Labourer (working with my dad): most of my life

Architects CAD technician: Summers when I was 15/16

Supermarket Shop Assistant: from age 17-21 (during school and uni)

Student Engineer: did 2 years of industrial placement with a manufacturer of lead-lined doors and wall panels for x-ray rooms in hospitals

Current Job:

I'm currently a graduate mechanical engineer developing robot remote maintenance systems and strategies for maintaining upcoming nuclear fusion reactors. This is largely a research and development application where systems have to be bespoke designed to suit the ever changing requirements of the reactor designs. I mainly work on developing systems for the future DEMO reactor, a large international project which will demonstrate the feasibility of fusion power generating electricity on the grid. We are currently moving from an initial concept design phase into starting to develop test rigs for the different proposed systems.

My Interview

How would you describe yourself in 3 words?

Nuclear Robots Nerd

What did you want to be after you left school?

Didn't really know for sure, but Engineer was my main choice

Were you ever in trouble at school?

Occassionally, I was never fond of homework!

Who is your favourite singer or band?

Arctic Monkeys

What's your favourite food?

Mexican, especially burritos

If you had 3 wishes for yourself what would they be? - be honest!

Money, Power, Glory - but I usually get all that when I play Dungeons & Dragons

Tell us a joke.

Why did the robot fail his exam? He was a bit rusty!
---
---
---
---