Profile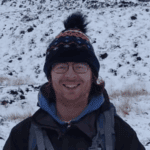 Judd Harrison
About Me:

I live in the rainy city of Glasgow, and work as a researcher in particle physics. I spend my spare time hiking through the highlands and rock climbing, tinkering with things like 3D-printers and cooking.

Read more

I've been climbing for about 8 years now, and have enjoyed hiking and camping for as long as I can remember. I've always been very enthusiastic when it comes to making things – I've made quadcopter drones, done blacksmithing and played around with AI and machine learning. I own two metal lathes (one small, one not so small!) and have an eclectic mix of projects on the go at any point in time. I'm currently very interested in 3D-printing. I'm also an enthusiastic if not always successful home cook: once I try something, I like to keep trying until I get it perfect – think DIY pizza every day for a week!

Read more

The Standard Model of particle physics describes what we currently think are the most basic building blocks of our world – "elementary particles" that are not made up out of other smaller particles. It describes the properties of these elementary particles, and how their properties change as they interact with one another. "Quarks" are one type of elementary particle. They make up most of the visible matter in the universe. However, in nature they never exist on their own but are instead found bound up together with other quarks – either in pairs or in groups of three. These bound collections of quarks, known as "hadrons", are held together by gluons, another type of elementary particle. The dynamics of the quarks and gluons predicted by the Standard Model is very complicated, and as such making predictions about the properties of hadrons is challenging.

In order to fully test the Standard Model at experiments such as the Large Hadron Collider, we need to be predict the properties of hadrons. This is what my research focuses on. I use supercomputers to simulate the quarks and gluons described by the Standard Model, approximating the space they live on as a very fine grid.

My Typical Day:

I wake up and have breakfast, which almost always includes coffee! I typically start work around 9am, when I log into the supercomputers that I use and check on the status of the code I've been running overnight. Then I get to work coding, analysing data and writing papers. If I've got a particularly head-scratching problem to solve I might spend the afternoon with a pen and paper and a lot of maths.

My CV

Education:

I went to school at the appropriately named Judd school in Kent before going to Cambridge to study natural sciences. I then stayed on another 4 years to do a PhD.

Qualifications:

I did 10 GCSEs, including maths and triple science. Then I took physics, chemistry, biology, maths and further maths at AS and A-level. I finished my master's degree in 2014, and finished my PhD in 2019.

Work History:

After my PhD I worked as a research assistant at the University of Glasgow for two years before receiving a UKRI Stephen Hawking Fellowship to support my programme of research.

Current Job:

I'm currently working as a research fellow at the University of Glasgow supported by a UKRI Stephen Hawking Fellowship.

My Interview

What did you want to be after you left school?

Theoretical Physicist

Were you ever in trouble at school?

Yes

Who is your favourite singer or band?

Rammstein

What's your favourite food?

Chicken, any and all

Tell us a joke.

Why couldn't the atom talk to his neighbour? He didn't have his phonon!
---
---
---
---