Profile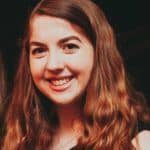 Victoria Fawcett
About Me:

I am an Astronomer at Durham University studying quasars – one of the brightest objects in the Universe! I love surfing, music and going out for food!

Read more

I am from Maidenhead (west of London) but now live in Durham. My undergraduate degree was in Mathematics and Physics which I studied at the University of Warwick. Durham is really pretty and has lots of lovely pubs and cafes that I go to with my friends at the weekends.
I love going to music festivals, such as Glastonbury, and play the piano, saxophone and bass guitar.
Every year I go to Devon with my family to surf at Croyde Bay – one of the best surfing spots in the UK!

Read more

In my work, I use light at different wavelengths to explore the properties of quasars: in particular, I use radio (like the radio you listen to at home) and visible light (what our eyes see). The majority of quasars look very blue, but there is a small fraction that appear much redder which we call "red quasars". In my research, I explore whether red quasars could be important in the evolution of galaxies.

My Typical Day:

I wake up and have breakfast (with a large coffee!). I walk to work at 9am, where I start my day by answering emails and catching up with any science papers that have been published that day. At 11am I have coffee with the other PhD students. Then I have lunch and do more work in the afternoon.

Read more

My work typically involves coding in Python, creating graphs, and analysing quasar datasets from various telescopes. I usually have an idea (or experiment) I want to explore, and I write some code to produce the plots or numbers I need to answer my questions. This normally leads to more questions and ideas which is why I love science!
When I think I have a good result that I want to share with other Astronomers, I write a scientific paper explaining how I did my research and why my result is important.

What I'd do with the prize money:

Developing Astronomy-related educational activities (e.g., workshops and planetarium shows) at the Great North Museum in Newcastle.

My CV

Education:

Secondary school: Furze Platt Senior School, Maidenhead


Undergraduate: University of Warwick


PhD: Durham University

Qualifications:

GCSEs: 11 A*-A (including Music, French, Geography)

BTEC art: distinction*

A levels: Maths (A*), Further Maths (A*), Physics (A*), Chemistry (A)

Integrated Masters: Mathematics and Physics (First class with hons)

Work History:

Cafe assistant at my secondary school (2012)

Undergraduate research summer internships: Particle Physics (2016), Astronomy (2017)

Current Job:

Astronomy PhD student at Durham University

My Interview

How would you describe yourself in 3 words?

Black-hole Astronomer

What did you want to be after you left school?

A particle physcist at CERN

Were you ever in trouble at school?

No

Who is your favourite singer or band?

Radiohead

What's your favourite food?

Indian curry

If you had 3 wishes for yourself what would they be? - be honest!

Go travelling, win the Nobel prize in Physics, start a family of my own

Tell us a joke.

How do astronomers organize a party? They planet.
---
---
---
---